Live Concert
People from all different backgrounds and cultures share the appreciation of music.  Over the last 100 years music has evolved, from people standing around the piano having a sing along to thousands of fans flocking to see their favorite bands, and it was the Beatles who made concerts popular, fans would flock to see them sing, although they couldn't really be heard over all the screaming.  The sound systems back in the 1960's weren't what they are today, and by their own admission they could have just been miming, non of the girls in the audience would have heard.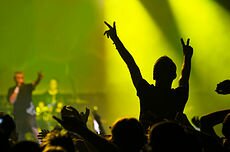 Pop music continued to evolve, at the latter end of the 1970's people were starting to rebel by listening to punk rock and annoying their parents by having Mohicans and dressing in Doc Martins and tartan clothing.  The 1980's was the decade which made it acceptable for heterosexual men to wear make up.  Pop concerts were starting to really take off, and thousands of fans were now following their idles round the country, hoping for the chance of getting a brief wave or to make eye contact with them.
In 1985 that Bob Geldof was the host of Band Aid at Wembly Stadium.  Band Aid was all brought about initially after Bob Geldof has watched Michael Buerk's reports on the news in 1984, which documented the famine and suffering the Africa.  His initial response to help stop the people suffering was to make a hit record, this record starred all the famous people of the 1980's such as George Michael, Boy George, Status Quo, Midge Ure, Bananarama and Duran Duran to name but a few.  This single raised £8 million and was the biggest selling single in the UK at that time.
The idea of the concert stemmed from this single, Bob Geldof encouraged people to perform, for nothing, to raise money for this brilliant cause.  The bands took to the stage and history was made, other countries run concerts too, these countries included Germany, Russia, Holland, Yugoslavia, Australia and Japan.  The event as a whole contributed 16 hours of music all of which was live, and over 1.5 million people tuned in to watch the events unfold.  The proceeds of which exceeded 110 million, which was more than was ever hoped for.  Concerts for charity have been hosted since, but not one has lived up to the expectations of Live Aid.